Results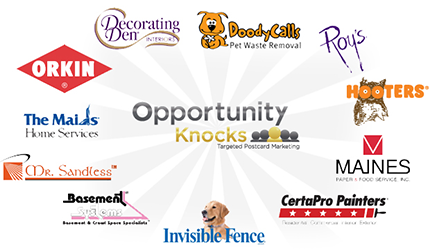 When you partner with Opportunity Knocks
you market with confidence!
Whether you represent a corporate enterprise or you run your own business, read how countless professionals, just like you, have achieved outstanding results with our direct marketing systems.
Through our expertise & extensive data partners, you can get the Right Message, to the Right Customer, at exactly the Right time.
STANDARD SOLAR

Since 2010, Opportunity Knocks continues to exceed our expectations. Skeptical at first, each campaign  has reduced our lead cost by 50% or more below the industry average.  Our most recent campaign delivered over 100 exclusive, pre-qualified leads within the first week and continues to deliver new leads every day. We recommend them to any serious solar company looking for an easy, innovative and extremely effective way to generate new solar customers.

– Marisa Applestein – Marketing Manager, Standard Solar -
ITHICA ALE HOUSE BAR AND GRILL

Hey there Angela…I am very pleased with the birthday mailings. We seem to get at least one redemption a day.

Very exciting.  I'd like to keep going!

– John O'Leary, Owner, Ithaca Ale House -
ROY'S RESTUARANT

"We've been very surprised at the outstanding results from Opportunity Knock's birthday prospecting system. Thus far, we've mailed just under 1200 birthday postcards and in just three months, we've already had 216 people respond to our offer…That's an 18% response rate! Our goal is to provide each guest with a unique dining experience which lasts a lifetime. Initiating that experience with a personalized invitation to share their special day with us has provided us with an excellent lift in incremental business, not to mention the guest feels extremely special on their birthday. Not to mention, we now have their email address to do future promotions. It's been a win-win-win relationship for all involved."

- Colleen Dunavan, Managing Partner, Roy's Restaurant -
DIMMITT LAND ROVER

The PURL postcard marketing campaign is awesome! We're seeing a 7% to 8% response rate, which is triple our current response rate with other tools. I get pre-qualified leads as soon as the prospect logs on to their website. This helps build my pipeline and gives me a measurable return on my marketing dollars.

-John McCurdy GM, Dimmitt Land Rover -
INTERIORS BY DECORATING DEN

I have been mailing to new homeowners through the Opportunity Knocks In the Door First program and received a phone call and sale for $4,500! I have only spent $506.95 in postcard mailings so far. The mailing list is provided by Opportunity Knocks and my postcards are sent for me. It is easy and effective!

-Carol Stearns, Interiors by Decorating Den -
HOME DEPOT INSTALLATIONS

I wanted to thank you for ALL the help you do in making our business profit and succeed. The marketing that your company does makes our job extremely easy. It takes less than 5 minutes to generate and drop postcards out to our clients. The pricing is a great saving over our previous marketing structure. The customer response has been overwhelming. Thanks for the GREAT job you and your company provides for us.

-Randy McDaniel GM, Home Depot Installations -
1-800 GOT-JUNK?

We are using the postcards to explode the Sarasota market for 1-800-GOT-JUNK, for homeowners getting rid of excess furniture, appliances and the like and for businesses. We see it as an integral part of our marketing for years to come. You've been extremely helpful to us and the process is very simple.

-Leland Fay, 1-800-GOT-JUNK -
INTEGRITY ROOFING

I have found that my interaction with Angela and all the folks at Opportunity Knocks to be very courteous and professional. The post cards we have mailed looked great and we have received a good response from our first two mailings. In August we received 6 new leads from our mailer and sold 3 of those leads. The quality of client and size of roof has been going up as we have used this more focused direct mail method to advertise. I am looking forward to continued use of the PURL post cards from Opportunity Knocks.

-Ken R. Stout, Integrity Roofing Systems -
MR. SANDLESS

I wanted to let you know I am very pleased with our first run of mailings. I sent out just 655 cards, a $295.00 investment and netted over $7000.00 in sales. I can't wait to send more of these out and really see what we can crank up with these cards. I love the look of the cards and the ease of the system. I'm looking forward to telling the other franchisees about your program! Keep up the great work!

-Sean Alewine, Mr. Sandless -
DENNIS BRENNAN – ATTORNEY

I was astounded to have an immediate response of two new clients on my first mailings! When I told John the news, we agreed that I needed to keep my program moving forward. I have no doubt that the second mailing will produce similar results. My only fear is that I may have to hire more employees to handle the increased workload thanks to your wonderful product.

-Dennis Brennan, Attorney at Law -
FIRST PRINCIPLE MORTGAGE

I am writing this to Thank Maureen Sipperly and her staff for all of the help we received on our first batch of postcards we mailed out. We had a huge success with the first batch as we received a phone call that gave us a major networking lead that has already given us three loans in less than one week since those postcards went out. The investor wants to buy 4 homes a month for the rest of the year. Maureen has been more than willing to help us to utilize Opportunity Knocks to its fullest potential. We are having great luck with marketing to Realtors. Your company has given us more opportunities than any other company I have ever used for marketing. I have been in the mortgage industry for 14 years and have yet until now had as much success with a marketing company. Maureen is a real assett to us here at First Principal Mortgage and we will continue to use Opportunity Knocks to its fullest extent.

-Kevin Block, First Principal Mortgage -
INVISIBLE FENCE

I can't tell you how refreshing it is to work with people like John and Jessica.
I truly feel like we're building a relationship rather than you just selling us some postcards. I also appreciated the customer roadmap provided at the time of registration. I will definitely recommend Opportunity Knocks to my professional associates. Thanks again for the excellent support. I look forward to this continued relationship.

-Kate Kimble, Invisible Fence -
We've been using Opportunity Knocks "In the Door First" program for about 6 months. We recently received a lead from a client in a new carriage home community that we've been watching be built for a while. On several occasions we delivered our own flyers to the community on foot, but we can't be there every week. Because of Opportunity Knocks "In the Door First" program we were able to capture a client who had just moved in and needed decorating. Now we have our foot in the door of this community. Thanks Opportunity Knocks!

Sue Thomson, Interiors by Decorating Den
I have been using Opportunity Knocks for a few years and love the system! It's a cost-effective marketing solution that is easy for anyone to operate. My company has saved time and money since joining Opportunity Knocks. I tried doing direct mail myself and found that it was very time consuming and certainly a waste of money. Now I have a system where if I like a particular area I can promote my business within in minutes. This is a targeted direct mail campaign that has worked extremely well for my business. In addition we just started a New Homeowner monthly mailing and look forward to see the results. Thank You!

Blake Van Weelde, Owner, Florida Film Solutions, LLC

I have been mailing new homeowner postcards through the In the Door First program at Opportunity Knocks. After only a few rounds of mailings, I received a call and did a $5000 living room for a new client. I am also waiting on a $6150 drapery order from a second and hope to hear from her this week. New Homeowners are a great targeted market to advertise to and with the mailings automated through In the Door First it is easy to reach them.


Renee Meyer, Interiors by Decorating Den
I cannot tell you how easy it is to send proximity cards. I have an aversion to computers and would always much rather talk to a human and I can tell you that it is a breeze to place an order. I was amazed that if you put an address in that the postal service does not like, it has you recheck your information. Setting up the account was easy and I love the fact that it is automatically billed to our credit card.

Stacia Clifton, Classic Papering & Painting, Inc

We recently started using Opportunity Knocks and have more than made our investment back several times over. We decided to go with the Mega postcard to drum up business for our asphalt spray injection system. With a small investment we have already signed contracts for $10,700. We will be working with a shopping mall that manages another 127 malls and a grocery store that manages another 79 grocery stores. The calls came after the second postcard drop. I was always taught in advertising that you have to be consistent and stick with it. I didn't believe it until the manager of the mall told me he threw the first postcard away. When he got the second card a few weeks later he picked up the phone and called me. Now I know this works!


Blake Verdun, General Manager, Total Maintenance, LLC
We were so happy to find out about Opportunity Knocks. We had been wanting to do mailing around our job sites for years, but have never done it because it was so labor intensive to do in house. With Opportunity Knocks we got a high quality, affordable, customized, personalized, way of marketing around our jobs. The best part is we only have to do 100 homes at a time. I've already referred two more clients to you based on this initial experience!

Jeremy Brooks, President, Brooks Painting Inc.

I just want you to know what a good job Maureen Sipperley has done for us. She recently designed a new card with bats as the focus. It has been the most successful card I have ever done. The return was significant. We estimate close to $20,000.00 in sales. Understanding the areas that had problems along with your awesome target postcard has been a winning team for us.

Jeff Holper, President, Holper's Pest & Animal Solution

The direct mail campaign has afforded us the chance to get our name out to potential clients that we would have otherwise not been able to do.


Laina Molaski, C & S Consulting, LLC
I just sent out my first batch of postcards to potential clients and within 24 hours I recieved my first call from the cards. Maureen Sipperly was such a great help in gathering ideas for the cards and showing me how to place the order and future orders. She has been so much help. The cards look wonderful and have recieved a ton of compliments on them just from friends and family. Maureen has made the process so easy to use and I look forward to placing consistent monthly orders to send out postcards to potential clients. Thanks so much for everything!

Michelle Bellgraph, The Judgment Redemption Specialists
We are a new up and coming company in the Commercial Mortgage industry and we planned on using our first mailer solely to get our name out there and let people know about us. To our surprise, our initial mailing of 2100 cards resulted in several appointments for our loan originators and we are currently working on a very significant loan based directly off a call from one of the postcards! We are in the process of setting up another postcard with John for some more big campaigns that we are planning in the near future.

Devin Sanderson, Vice President

I would like to take this opportunity to thank Opportunity Knocks for helping us get our name out to the public as well as letting them know that we also have two satellite offices. Since starting the postcards we have had several patients purchase hearing aids from the satellite offices resulting in sales of $2770-5990 each. Maureen Sipperley has always been there to help with the execution of all of our mailings.

Darlene DeGreen, Office Manager
I wanted to let you know how well your card worked well on our last mailing. We landed a $10,000 landscape job from a list of homeowners we uploaded to your system and the mailing only cost us $450, very nice return! We had done estimates for this prospect in the last 5 years but they had not purchased yet, but your card locked them up. The multiple touch approach has definitely paid off! We also got some other calls for estimates from the proximity mailers we were doing too. Thanks for all your help and I am looking forward to getting the New Homeowner Program up and running too!

Dave Samuelson, Town & Country Enterprises Inc.
I have used the services provided by Prospects Plus since 2007. Their product was responsible for a successful launch of a new company. Now my company name is easily recognized in serveral markets. I could not have experienced a better advertising program. Their products are second to none.

Neal Davis, Elegant Accents, Inc.
I'm really excited about Opportunity Knocks and I'm glad I held onto the postcard that was left at our booth at the CLCA Landscape Show held at the Los Angeles Convention Center two years ago.
I've had four prospective customers respond to my postcards, three of which have requested getting signed up with us for future purchasing, and one of the three landscape companies bought 100 flats of bedding plants from me last week. One of the four prospective customers was located in another area, so I referred them to our Sales Rep. at our growing grounds.

Joy Baugh, Armstrong Growers
We have found Opportunity Knocks to be a very effective way of getting into neighborhoods that we couldn't normally reach. WE have received some good responses from all of our mailers this far. We have found the support and creative staff to be second to none. It is reassuring to know that when I make a decision to mail to an area, I can adjust the volume of cards, the addresses within a community, and can adjust by the parameters that are important to me. It's an added benefit to know that my orders are Printed, processed, and mailed in typically 48 hours or less.
Thanks for all your help over the last year. We look forward to continue using your services for a long time. Keep up the great work!

Bob Hawkinson, Total Lawn Care
I just ordered my 2nd batch of postcards to be mailed. It took me 5 minutes. I know that in a few days, the cards will be in the hands of my targeted customers. Jose (my rep) was a great help with advertising and marketing strategy ideas; not to mention getting me set up on the system. Thanks a lot.


Ralph Redmondbr, Indiana Outdoor Lighting
Just wanted to leave you a quick note. This morning I had called to inquire about changing photo and copy on our card which is but a month old. We wanted to target existing pool owners for some landscape and pool renovations. Well you couldn't have been more accommodating. Not only did I already get the changes, 5 hours after my request but it is a beautiful postcard. Your designers are so talented and I really like everything that they have done for all our advertising.
What I really like about the Opportunity Knocks program is not just the end product which is the best on the market, but the ease of ordering, these types of special requests and just everything about what you folks do, everyday. It is Top Notch! By the way, I just deposited an 18,000.00 check that was a direct lead from a recent mailing.

Mark Wagner, Wagner Landscaping
Due to the outstanding customer service and prompt handling of our mailings and advertising through Opportunity Knocks, we have incorporated a 6,000-postcard mailing into our monthly budget for each month of 2007. Our rate of return has been the highest of any advertising we have ever done. We have hired 30 employees from our recruiting postcards and increased our new business by 15% from our advertising postcards. We look forward to continuing to grow and prosper because of Opportunity Knocks.


Angela Parisi, American Insurance Agencies of Greater Florida, Inc.
I hadn't done any new prospecting for auto in years until I came across Opportunity Knocks. The system is so easy and convenient to use that I can send out my marketing for the month in a matter of minutes. The cards themselves are fantastic, much better than anything I've done before and give the professional look I want. This system has given me a chance to get in touch with my current book of business without auto policies and prospect the zip codes closest to my office. With a $200 investment a month for the past 5 months, I have landed 6 new auto clients and have also signed on 5 new Citizen Policies for Home Owners Insurance as a direct result of the post cards, and those are only the ones that have qualified! This is a can't miss marketing opportunity for any business, especially State Farm agents. Keep up the good work fellas.

Jim Vigue, State Farm Agent, St. Petersburg, Florida
I just wanted to email you and let you know that we have already started seeing a response to the postcard with 24 individuals going to their purl and 3 of those answering the survey. Thanks you both for your help on this. We are ecstatic over the response and all the work you put in to get this ready and going. Thanks again,


Jason
As a fairly new Decorating Den franchise owner, I wanted to let you know of the success I have had in the short two months I have been using your New Home Owner's postcard program. I have had one call, but that one call turned into a $3,600 sale! More than paying for the NHO program dollars. I also follow-up with a letter immediately after I receive the NHO list each week. Other than the letter (which only takes minutes with the list Opp. Knocks provides), I don't have to think about it–I just wait for the phone to ring! Thanks for a job well-done!

Sandy Kozar
I wanted to let you know that I got 9 leads from the post card that we sent in January, the best response ever! I have not yet completed all of these appointments, but I hope we get this response the next time.

Thanks for your help,

Just wanted to mention to you that I am still getting calls from the January mailing. This has been by far my most productive advertising to date. Thank you for your help!


Lois Pade
I got the first "mailings" lead this afternoon.
Conference was crazy great!…So much to absorb and learn and so much fun..
The cards are working, in that several folks have relayed to me and said that they saw it in their mail, or.."your the Dec Den lady"..

Thanks again..


Jane Sams

I just wanted to let you know that I got 4 calls from my last mailing. I know they were prompted by the postcard because each person mentioned the card to me. I think that is great especially because I only sent around 200!

I also want to thank you for all of your help in setting up my QR Code as well. It has helped me to set apart my marketing pieces apart from the others that my clients receive in the mail!

The personal attention extended to me in creating my direct mail postcards is very much appreciated as well!

Thanks,


Tammy Trippel Decorating Den Interiors
McAllen,TX
In my more than 30 years in marketing, I have never worked with anyone as responsive as Angela Parisi and Opportunity Knocks Prospects Plus. Angela's ideas are creative and she is very accommodating to mine. She is extremely prompt and she is a patient teacher. She walked me through the many possibilities in developing our mailing list and taught me how to use the online design tool. She has great salesmanship without being pushy. And the design department was terrific at helping us use a photo from a previous customer from our former locale. The order department was right on time in getting our mailing into homes on schedule. We are new to this area, so no one in our target market had any previous recognition of our family name. Yet our first Opportunity Knocks postcard resulted in a phone call that became an appointment that became a very nice order. We will be counting on Opportunity Knocks to help us create awareness and response in this new market for us. -6/2/2011


First mailings sale was $4000. Marie got another appointment this morning, from the second card. We're going to do the next card on windows again. – 6/3/2011

Marie got another order today, from the first postcard! 6/15/2011


Ross C. Feltz
Thank you for working with me in expanding my territory for the New Home Owner program. I just closed a sale in the new area I have been wanting to expand to! This sale will cover my yearly budget for this program, it works. I will look into adding another zip code to increase our exposure in the market!

Thank you for you assistance in helping me grow my business.


Kim Ormsby~ Decorating Den Interiors~ Atlanta
I just wanted to let you know of the value of the New Homeowner program. When sales really slowed down, we had to review our marketing. I never pulled this program simply because of its low monthly cost. Then in the first few months of this year, I have had 2 terrific sales and have begun 2 new relationships as a direct result of these mailings. THANK YOU Opportunity Knocks and a special thank you to Angela and Jim who are just amazing at what they do….so helpful and knowledgeable, working tirelessly to help all of us at Decorating Den Interiors.

Deanna Irwin and Janice Hinzman – Decorating Den Interiors